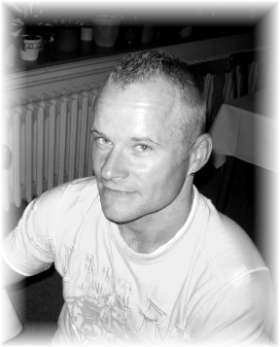 A beautiful good day, visitors of "Sahnes wood engraving".
If you wonder "why cream?"-quite simply, this is my nickname.
First I would like to thank here with my parents for my artistic gene, which they put me in the cradle. Because my father Frank, who worked as a painter embellished boards already in his time by picturesque reshaped it and my mother Sigrid is a real work saver!
So it was only a matter of time until this gene had to come to the outbreak.
And this was done in the form of the art of writing in 1999, when I thought about in a quiet minute "What I give my love to the Christmas"? Since the idea came to me one, I say 0-8-15 burner (today for 9,-€ to have) to get and started a few boards with prints and for even better optics in addition with pretty pictures to make.
Thus there were suddenly out, again questions and small jobs where I could demonstrate my skills and steadily improved something and learned to do so. Also wore my medical history that suddenly prevented me perform physical activities, with at this hobby continue to expand.
Me is also my home to the Upper Lusatia to introduce something included to the "Zittauer Gebirge" (the smallest mountain range of Germany) with his little need of getting used language, the rolling 'R'.
One day a good friend and his wife why I no longer present all this to achieve so perhaps many more people the public asked.
So I did that ' Sahnes-wood engraving developed ´ piece by piece and developed at some point also this homepage for you.
So you even have the option, to make these models produced in many variations by me in any manner according to your wishes and to purchase.
May be with me to connect and to send your wishes to me you can do this address under following E-Mail:
sahnes-holzgravur@gmx.de
Share with your needs me and I will you submit some proposals and with you jointly develop a draft until he does.
Until then I remain you with friendly greetings and perhaps until soon in the heart of Upper Lusatia.